Urban Land Institute Award for Excellence, The International Union of Operating Engineers IUOE is a trade union within the United States-based AFL-CIO representing primarily construction workers who work as heavy equipment operatorsmechanicssurveyorsand stationary engineers also called operating engineers or power engineers who maintain heating and other systems in buildings and industrial complexes, in the United States and Canada. Vote for the pavilion dedicated to the coty and science
carpentry shop in international city group
watchmaking here. Her work is streamlined, efficient, multi-disciplined, dynamic and process oriented. Donahue John J. The majority of his work has focused on healthcare and specifically the primary and community care sector. Isaiah Industries, Inc.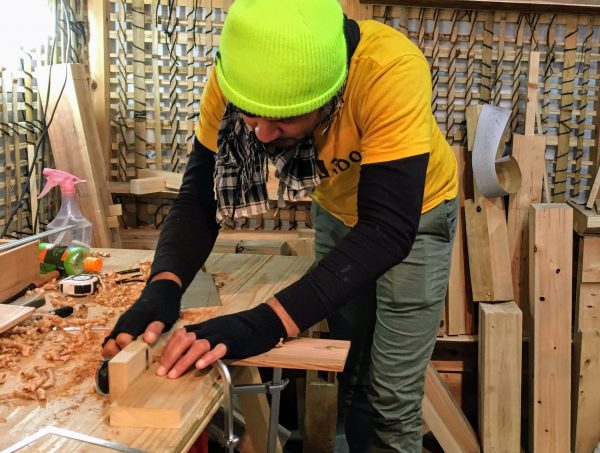 Nihit has also presented in various APTA conferences across the US on demand response transportation, fare collection, and transit technology and serves on the Board of the Philadelphia chapter of the Young Professionals in Transportation group. Nikolaos is an Associate Director at IBI Group with more than 20 years of experience in the planning and design of urban transport networks, the master planning of airports and the design and implementation of large-scale intelligent transportation systems, including road user charging and advanced traffic management.
He has experience in leading complex, multi-disciplinary design and implementation projects. Design is concerned with how things work, how they are controlled, and the nature of interaction between people and technology. When done well the results are brilliant, pleasurable buildings. Evangelos Pantazis is an architectural engineer, building scientist, computational designer and educator. His research expertise is in complex geometric modelling and generative design strategies in conjunction with daylighting, energy modelling and performance driven design workflows across scales.
His work empowers non-specialized architects and designers to develop design alternatives which couple critical design parameters with energy demand and supply, comfort, and livability. To date, he has authored and co-authored journal papers, peer reviewed scientific articles and book chapters.
Evan holds a Ph. Honor Roan is a Graduate Architect that specializes in a variety of sectors, including institutional, commercial, high-density residential and hotel projects. Honor is adept at fulfilling the role of Project Manager for many simultaneous projects and works to produce and coordinate working drawings from the building permit through to the construction phase.
He is experienced in leadership of consultants and all aspects of production to successfully complete his projects. Chris Jones directs a variety of campus landscape master planning and site design projects.
His efforts also focus on site design for urban mixed-use development projects and associated streetscape restoration. Homayoun has broad and combined expertise in transportation engineering and systems, with specialty expertise in technology applications. He has led numerous large-scale transportation systems projects for the Province of British Columbia and for TransLink in the Metro Vancouver region over the past decade.
He has enhanced his technical background in electrical engineering with a Masters of Business Administration and PMP certification. This system monitors and tracks commercial vehicles and assesses fees based on the vehicle and type of trip. She has worked on a range of buildings from high-end boutique condominiums to large scale mixed use projects.
Stoev is a Professional Systems Engineer with over 15 years of experience, leading team design, development, delivery, operations and support of complex IT and communications infrastructure projects. He has a strong electrical engineering and software engineering background, including network and systems engineering, data centre operations, systems architecture design and deployment, telecommunications systems integration, RF systems and networking technologies integration as well as mobile application development and software configuration management.
Experience is primarily in the ITS market segment, with various airports, transit, transportation and public infrastructure clients based in North America, Europe, Africa and the Caribbean region. Daniel Crosthwaite has over 30 years of experience in engineering, project management and business administration. He has extensive experience in project management for complex and multidisciplinary, high-profile design assignments, project costing, project selection and forensic analysis for client projects.
Daniel is an electrical engineer with detailed understanding of disciplines, including architectural, civil, structural, mechanical and industrial, which he leverages for advanced project management techniques to plan, execute, monitor and control project portfolios and optimize individual project team performance. He has experience with multiple contract arrangements and has gained this understanding through leading complex, multidisciplinary design projects, which allows him to interface with and coordinate the activities of professionals in these fields.
Aditya M. Aditya joined IBI Group in and has over ten years of experience working in diverse projects involving transportation planning, toll systems and ITS. Further, he plays a critical role in the global support team of ATMS and projects where he has been responsible for leading the support team from India. Aditya has been able to demonstrate a comprehensive technical skill set across diverse projects from a design and implementation perspective.
Bruce Han has over 25 years of combined experience in architectural design, urban design, city planning, as well as transit design, specializing in public transportation, institutional, commercial and residential complex projects. His design portfolio features large scale, complex architecture, urban design, commercial and residential developments, where he delivers innovative ideas and multidisciplinary solutions in both North America and internationally. While pursuing his master degree, he attended advance architecture studio hosted by scholar from GSD, Harvard University and gained in-depth knowledge of contemporary architecture design.
He has over 25 years of experience as a project manager and senior engineer for a diversity of transportation and municipal projects involving feasibility studies, Class Environmental Assessments, functional, preliminary and final designs, contract preparation, and construction administration and inspection. His project work includes both new and reconstruction of existing civil infrastructure. This broad experience across many municipalities has provided John with the ability to large, manage multidisciplinary projects and understand the complexities of public, political, approval agency and municipal pressures and requirements on a project.
John is also one of the few Region of Waterloo approved acoustical engineers and has completed the MOE noise assessment course as well as numerous seminars with expertise acoustical studies for both road and rail transportation, and stationary noise sources. Peter Richards has 15 years of experience, with a focus on traffic operations analysis, traffic and parking assessments, and traffic signal coordination.
Peter has extensive experience completing traffic impact studies, parking studies, including parking utilization studies for various developments, by-law reviews, and parking standards reviews. Peter also has experience undertaking traffic capacity analysis, review of multi-modal developments, site circulation and access review, transportation demand management strategies, traffic model calibration, developing and implementing optimized and coordinated signal timing plans, queuing analysis, public consultation sessions, speed and delay surveys, and innovative traffic solutions.
Shujun Liu is a Mechanical Engineer with over 20 years of experience in the design of mechanical systems for industrial, institutional, and commercial buildings for both private and public sector clients.
He has in-depth knowledge of building codes and standards, which he applies to the detailed design of HVAC, plumbing, piping, and fire protection systems. Sumeet has a diverse portfolio of experience in transaction advisory for government bodies to structure public private partnership projects, planning organizational frameworks, real estate joint development projects, techno-economic feasibility studies, marketability analysis of property developments and engineering management for large scale technological projects for smart city developments.
He has in-depth knowledge and skillset in development options and feasibility studies including financial and risk analysis of capital intensive infrastructure and real estate projects.
He has worked on government infrastructure developments, mega commercial and institutional projects, mixed use developments and housing. As an engineer and being certified project management professional, he is presently involved in management of technological projects including smart urban systems at Bhubaneswar, India. Nathalie Waelbroeck is an up and coming designer in the field of architecture, building experience in a wide array of projects including light rail station, residential, spa, medicine, hospitality, and office design.
She has proven her flexibility to function as a team member in the collaborative environment, most evident in her light rail and medical projects. This experience has given her an appreciation of the architectural process in different regions. Nathalie is passionate about sustainable design as it impacts the triple bottom line; as a result she has deeply studied the subject matter and holds credentials with both LEED and WELL.
Jennifer Moore brings 17 years of design and project management experience and maintains a professional interest in understanding how people experience the landscape around them. She has also developed an expertise in designing for children, elderly and people with special needs, which is applied to the accessible design of public and private spaces.
Jennifer leads a landscape architecture team and coordinates the design and construction of a diverse array of projects including: urban and community design, public parks, ecological restoration projects, transportation facilities, commercial development and school and healthcare facilities. Moving into management, Gene worked as a project superintendent, estimator, project manager and handled client relations. He shifted to the architectural side almost 30 years ago and has worked as the Director of Field Services since Martin Bruckner Director Sr.
Martin Bruckner is a well-known Certified Professional in Vancouver and a recognized expert in the building code. For over 35 years, Martin has led award-winning residential, hotel, and mixed use projects in Vancouver, Calgary, Portland and San Diego.
His portfolio features a wide range of architectural services from master planning to renovations, public consultation, and visioning processes. Martin is particularly skilled in handling municipal approvals, producing construction documents, managing consultant activity, and orchestrating the complex elements required to complete a project from beginning to end.
We cover a wide range of the Landscape Architecture industry; providing creative, practical and sustainable design solutions for our clients in both public and private sectors. Having an education in Architecture, Landscape Architecture and Urban Design, my professional inspiration lies in our constructed environment and how thoughtful interactions between built form and site can enhance physical, experiential and functional connections.
My professional work focuses primarily on masterplanning, parks and civic spaces, and streetscape design. In the mid s, Anita began the renovation work on the Hotel Vancouver, one of her longest running projects and one she continues to work on to this day.
In the s, Anita took on the local work for Holt Renfrew which at the time was renovation work. This later turned into a new store for Vancouver, followed by Calgary, and a number in Ontario and Quebec, which is a testament to her work. Heidi Rose is a team design lead with well over a decade of experience in the field of Interiors.
She specializes in conceptual design in both hospitality and high-rise residential interiors. With her experience she has developed a keen eye for detail with the utmost attention to quality and design, and has the ability to establish and identify creativity in each new opportunity. She has the ability to provide creative design solutions that adapt seamlessly to aesthetic, and project goals. Her design approach is to collaboratively provide tasteful, and thoughtful interiors that are relevant and cultivated.
IBI Group initiatives have brought her multiple high-rise residential opportunities ranging from high to low end markets making her experience vast and adaptable.
The ties between hospitality and residential design are like-minded in creating lasting interiors to surprise the visual senses of the end user. Matt is an Architect Project Manager at the 55 St. Clair W office and has been with IBI for four years. He has experience leading large complex projects with fully integrated multi-discipline project teams, working closely with the Toronto West and Richmond Hill offices. Matt works directly with clients from the initial project vision and programming stage through to construction.
Recent projects that he has been a team leader on include the Magna International Head Office and multiple Metrolinx Transportation Pursuits. Prior to joining IBI, Matt was a manager and a design team member for the concept and approvals phase of the Parq Vancouver project, an , sq.
He has been a design team member for various architecture design competitions for cultural buildings and libraries in Quebec, several of which have been recognized internationally for design merit. Matt has also worked on, and lead, various cultural and community architecture projects in Asia, with a focus on Indonesia and Taiwan.
With 15 years of experience in the architectural industry, Guillaume Chan has been involved with a broad spectrum of projects such as residential, commercial, institutional, and large scale projects including water-related infrastructure, nuclear and transportation facilities. His responsibilities as project architect on recently completed projects include architectural design, coordination with various consultants and client liaison. Guillaume is also a hands-on architect involved throughout the lifecycle of the project from design to construction.
Phil Colleran has directed a range of urban mixed-use development projects in the US and abroad. He has significant experience with complex planning projects and large teams in the Far East, the Middle East and North Africa. In his work, he is responsive to environmental and civic concerns and has deployed ground-breaking design strategies suitable to climate and project conditions. Her background is in the Healthcare market where she specializes in evidence based healthcare design, in particular designing for children and the elderly.
She has worked on various large scale health campus projects in the UK and the Middle East helping to develop unique therapeutic interiors, wayfinding and art strategies. She also has experience in the commercial sector working on office fit out and high end residential interiors for the London market. She is a qualified Fitwel ambassador and seeks to combine her extensive experience in healthcare design with Fitwel to help clients achieve their wellbeing goals.
As Project Manager for several master planning and renovation projects, he leads the coordination and production of indicative design drawings and output specifications, has involvement leading several user group meetings, and overseeing production of a facilities assessment report.
Doug is also immersed in managing and producing schematic design drawings, working drawings, and specifications, as well as performing construction administration services. Combining the natural and built environment for site user's to experience while implementing ecologically sensitive design initiatives is the culmination of the Landscape Architectural field.
Having the ability to personally influence this process is the most rewarding feeling. His involvement in challenging, multi-disciplinary projects has greatly contributed to his well-rounded understanding of leading project teams.
Bruce Beaton is an accomplished project manager with over 25 years of experience, utilizing best practices to ensure on-time and on-budget delivery of the following: complex infrastructure designs, large industrial, commercial, institutional, transportation, transit, and healthcare projects. Bruce is fully versed in the development of schedules, budgets, resource forecasts, risk matrices and procurement documents.
His past and current roles have required leadership of teams of professionals, both internal and external, in the development of complex infrastructure designs, technical specification documents and managing multidisciplinary design teams to deliver high quality designs.
Venugopal is involved in all stages of ITS projects including, proposal, scoping, preliminary field assessment, design, acceptance testing, construction support and closeout. In addition to ITS design, Ms. Venugopal is involved various strategic planning and technology assessments projects for various public agencies. Venugopal has a broad communication systems background, including various physical and higher layer networking protocols.
Bill Quan Director Sr. Bill Quan has over 16 years of working experience in Canada and the USA and offers outstanding talents in architectural design, problem solving, project management, consultant coordination, and training team members. Bill is familiar with all major aspects of architectural practices from design through to site administration.
He brings to his role strong leadership experience directing complex projects, from concept design through construction documents and permitting to fully operational status.
His varied project types include corporate and healthcare campuses, parks and open space, mixed-use developments, streetscapes, public housing, colleges and universities, as well as work in the Middle East and around the world for the U. Henry Burstyn Director Sr. Henry Burstyn has over 20 years of experience and has developed a significant portfolio of work in residential, commercial, institutional, master plans and complex urban mixed-use projects leading multidisciplinary teams.
His extended experience covers a wide range of building types from multi-unit residential condominium, rental and townhouses to institutional schools, retrofits and larger commercial centres. Mojan has 30 years of experience including 10 years with IBI Group. Her most notable projects include the award winning Parq project, an , sq ft multi-hotel, conference centre, and casino complex located in downtown Vancouver.
She is an effective project manager who can guide a team through all stages of the project, from schematic design through construction to occupancy, liaising with clients, Planning and Building departments, and coordination with consultants. Ron is a transportation engineer, and member of Professional Engineers Ontario, the Institute of Transportation Engineers, and the Transportation Association of Canada. He has more than 30 years of experience leading multidisciplinary teams in both the private and public sectors at the Carpentry Shop In International City Years municipal, provincial, and federal levels across Canada.
A leader at IBI Group for nearly a decade, she is an astute project manager and effective communicator who ensures that design intent is carried through a project from concept to construction.
She deftly balances sustainability, budget, timeline, stakeholder engagement, and innovative, results-oriented design in her service to clients and community. Rebecca was also involved in the design of the Snohomish Aquatic Center, a truly unique facility north of Seattle.
Lou Bandiera has over 35 years of experience in the architectural field and has participated in a variety of transit, industrial, commercial and institutional projects. Lou has fulfilled a major role in carrying out building audits, feasibility studies, project management, production of working drawings and technical specifications, tender issuance and evaluation, building code review, project scheduling, construction site review, document coordination and obtaining approvals from government agencies and private sector clients.
His primary responsibilities in the management of the staff in the Architectural, Specifications and Document Control groups, includes staff development, technical leadership, resource management and business development, as well as, peer review of all deliverables produced by the group. His experience as an Architectural Technologist in both consulting and home building brings a layered understanding to maintaining these standards.
Zain Ali has over ten years of experience specializing in the areas transportation planning, traffic engineering, safety and geometric design combined with extensive experience in urban and landscape planning.
He has managed and led a wide variety of long-range and multi-modal transportation projects related to public transit planning, transportation master planning, travel demand modelling, traffic simulation modelling, transportation assessments and parking, both in Canada and in the Middle East. Being an avid supporter of active transportation modes, Zain is actively involved in a wide-range of multi-modal mega development projects promoting context-sensitive design solutions across the Middle East region.
Among the relevant projects in which Diego has participated are the Master Plan of the CETRAM Constitution of , two master plans to the south of the Guatemala Metropolitan Area of more than 1, ha, the comprehensive project for a Transportation-Oriented Development TOD in Belo Horizonte, pre-feasibility study for a cable car in Mexico City, project review and regulatory engineering for two towers of more than 35 levels and 30, sq m of construction, and project review and regulatory engineering for a museum in a heritage building.
Bruce Mori Director Sr. Our increasing frustration with growing traffic congestion is matched by our inability to doing something about it. We need to do more with less as our problems become more complex and solutions more expensive. Creative and innovative solutions are needed to address today's transportation challenges, but they need to be cost-effective, tied to our goals, and supported by technical analyses rooted in common sense.
We can meet the challenge because we must. Bruce Mori has more than 20 years of consulting experience that spans the globe. He specializes in transportation systems planning and travel demand forecasting for major metropolitan areas and Landmark Events with a focus on rapid transit systems, integrated transportation land use planning, and sustainable transportation principles.
As a Manager in the Geomatics department in Edmonton, Alberta she is responsible for the management of a team of professionals and technologists involved in the collection and maintenance of field data for dealing with land ownership and development projects.
Her attention to detail and focus on end results ensures her clients get a quality product delivered on time. Jonathan is an educational architect with over 15 years of experience in the design and construction of major K and higher education facilities. He has worked with our global education team for over ten years.
Jonathan has designed buildings for some of the most prestigious educational institutions globally, including three projects for Oxford University. He brings strong experience in business and personnel management to our Portland team, having built successful practices on both sides of the Atlantic during his career. He has previously acted as President of the Alberta Chapter of A4LE and has presented at conferences for the past several years.
At a time when educational institutions are transforming in response to rapid socioeconomic change, design retains the powerful potential to shape campus environments that spark curiosity, enable innovation, build partnerships and foster lifelong learning. An award-winning architect with over 20 years of experience, Jay is a recognized thought leader in institutional architecture of varied scales and typologies, in Canada and overseas. She leads the design, strategic thinking and planning for education projects, and engages meaningfully with clients and stakeholders to define and implement the strategic vision of the project through place-centric design.
She is deeply engaged in the arts and design community in Toronto, as a member of the Board of Trustees at the Textile Museum of Canada, and as a frequent guest critic and lecturer at design schools.
Presently, she is working effectively from home, leading the design of an integrated health sciences faculty with 5 schools, 26 user groups, and a large multidisciplinary team of professionals.
In this time of extraordinary urban growth and technological innovation, Randy Knapick helps communities and organizations envision their transportation futures through an interdisciplinary approach to urban mobility challenges. He has project experience across North America and globally. Randy is an effective communicator with both technical and non-technical audiences, including executive decision makers, agency staff, and the citizens of the communities we serve.
He has worked on multiple high-profile government projects involving systems for audiovisual, security, traffic operation centre technologies, facility and data centre communications infrastructure and cabling design, and outside plant communications design. Joel has been involved in the complete life-cycle of the projects from preliminary design to construction administration.
He has taken roles as a Design Lead and Project Manager. Natasha is a member of Calgary Jury Registration Committee and reviews the candidates obtaining the licence as a registered landscape Architect in Alberta. Natasha is a well organized project manager and involved in a wide range of project types. Her wide professional knowledge and her ability to create sustainable and interesting landscapes, makes her a valuable member of IBI Group. Angus Davol has over 20 years of experience in the transportation industry, including consulting, public sector, and academic experience.
With IBI Group, he has direct experience in planning and implementation of state-of-the-art transportation technologies, coalition building across a wide range of public agencies, and management of complex multimodal transportation projects. In his prior role as lead planner for transportation technologies and emerging mobility at San Francisco International Airport, he led the development and implementation of new technologies for ground transportation management, including developing industry standards for permitting and operations of Transportation Network Companies at airports.
Fady Shweihat, P. Clement Pun Director Sr. He is skilled in schematic design, design development, construction documentation, and liaising with consultants, construction groups, city authorities, and clients.
Johnathan Law started his career at IBI Placemaking as an intern in , joining the professional staff in the summer of Over the past 18 years, Johnathan has played a key role on a range of education, open space, streetscape, and site design improvement projects, merging his design and technical expertise. Johnathan is particularly adept at project management and overseeing construction. A native of Leeds, England, Johnathan was drawn to the landscape architecture profession because of his love of drawing and design.
Mark manages a diverse planning practice that covers Eastern Ontario however his area of specialty is development and urban planning for both the private and public sector. Jennifer Ujimoto has over 15 years of experience, over which she has crafted her understanding of project administration from pre-design analysis and through design development phases and both in-office and on-site aspects of contract administration. She is thoroughly familiar with building and development approvals processes and has an understanding of the complexities of the municipal project procurement environment.
As a designer, Jennifer has a keen understanding of the collaborative process that is essential to the practice of architecture. Her ability to communicate effectively with clients, consultants, and contractors has made her a valuable key team member on projects situated within complex and challenging social and physical constraints. She brings a deep commitment to design excellence on all levels including conceptual, technical and social parameters.
Her multidisciplinary experience, includes award-winning high-end residential design, exhibit design, curatorial work, academic writing and teaching, demonstrating her ability to implement rigorous design, project management and construction standards.
He is thoughtful in his approach to the pragmatic concerns of every project: scope, budget and schedule while never compromising on the exploration and execution of the project design vision. This sensitivity to global cultures is key in shaping his approach to workplace design. Nuno is driven by his curiosity to continuously examine what is shaping the future of global workplace and setting this vision of what is next.
As a registered architect, Peter Boccia has over 30 years of professional experience. He has actively participated on a wide range of projects and building types, with an aggregate area in excess of three million sq ft of commercial space.
Because of his extensive knowledge of model building codes, he is responsible for all code research and compliance. He is also fully conversant in modern construction materials and methods as well as with best practices in sustainable design. Since joining IBI Placemaking in , Nick has played a key role on a range of public and private sector development projects in the U.
Embassies; college, university and high school campuses; private urban developments; child wellness and assisted care facilities; housing; public parks; streetscapes; cemeteries and various design competitions. Since his return to the States, Nick has worked on several local and regional projects with responsibilities including design development, presentation drawings, contract documentation, specifications and cost estimating with a primary focus on project management and construction administration and supervision.
Roxana has 20 years of total experience including 12 years of experience with IBI Group. Her most notable projects include the private residences at Hotel Georgia in Vancouver and 41 East Hastings — a project that was designed to meet LEED Gold certification and achieved this status in February Roxana is a Registered Architect in Mexico and is currently an intern architect in Vancouver. She received the best innovative feature award in for her work with the private residences at Hotel Georgia.
Her most notable current project is Sun Towers in Burnaby. As the Project Manager, she has worked on the project from the design development stage and has provided coordination to ensure the architectural design met with the consultant requirements. Brad Kimball Director Sr. Brad Kimball has 25 years of experience in various aspects of facilities, facility design, interior design, and building infrastructure evaluations for both public and private sector clients. Brad specializes in user group facilitation and concept planning.
He is also a member of the Royal Architectural Institute of Canada. John O. He has extensive experience in auditing as well as the management of professional service organizations, and has experience in strategic planning, development and growth management in all business sectors and industries, with a focus on mergers and acquisitions, technology and health care. Reid is a founding member and Chair of the Audit Committee of the Perimeter Institute of Theoretical Physics, which supports physics research, training and outreach throughout the world.
Reid served as chair of six hospital boards and two colleges across Canada. Cathryn Chopko-Beck Director Sr. Maarit is an experienced, Chartered Architect with years of experience in high profile and award-winning sheltered and extra care housing, retirement villages and care homes located throughout the UK.
Each design is a unique response to the site and brief, and developed through a dialogue with clients and end-users. During her career, her designs have achieved several awards for design quality, most recently at Healthcare Design Awards and Housing Design Awards Working with some of the largest local authorities, charities, housing associations and private developers in the UK, her knowledge has provided her with the best practice knowledge and innovation in this sector.
Paula Sinclair Independent Director. Sinclair spent the first half of her career building or working for software development and technology companies in the medical, manufacturing, logistics, asset management and supply chain sectors. In each case, she focused on the development of applications and solutions by applying new and emerging technologies to create business value.
From there, she moved into the financial services and media sectors as an executive and chief information officer CIO leading large transformation initiatives. With more than 20 years of experience in the IT industry, Ms. Throughout her career, she has been at the forefront of technology change and disruption associated with the Internet, data analytics, digital, cloud technology, distributed computing, off-shoring, integration and robotics. Cargo was formed with the intention of supporting organizations in reducing the risk of technology investment in their businesses.
She currently sits on the Advisory Boards of Softdrive Corp. Sinclair also serves as a director of Roil Blue Corporation, which holds a patent for deep water spill containment systems. Her work in public, private, and non-profit sector planning has shaped her passion for creating community-inclusive solutions to issues that affect our urban and social environments.
Her expertise in GIS includes data management and analysis, data visualization, geospatial analysis, and interactive map development.
The future city doesn't have departments managing operations from isolated facilities with separate staff. It makes use of ICT infrastructure, integrated operations, intelligent systems, and data analytics to more effectively deliver services to its citizens. Ian Nelson joined IBI Group in and has diversified experience in the ICT and ITS industries, leading the planning, design, and integration for a diverse clientele in market sectors including government, transportation, transit, and education.
Health and Social Care. Hospitality and Catering. The Land Sector The land and environmental sector employs approximately 1. Contact us. Call us on or complete our enquiry form. Complete our form. Social networks. Key Stage 4 Key Stage 5 Technical Award in Vehicle Technology. Technical Certificate in Automotive. After Key Stage 4 Level After Key Stage 5 Level Apprenticeship University Employment.
Level 2. Level 3. Technical Award in Hair and Beauty studies. Potential Job roles include: Plumber Electrician Heating and ventilating engineer. Key Stage 5 16 As President of our Water Group, Roy is responsible for overseeing all of our water operations. Roy brings an incredible understanding of the water industry that has helped the company become an industry leader in water and wastewater treatment facilities.
He also specializes in collaborative delivery projects, including construction manager at-risk, design-build and progressive design-build. All Rights Reserved. Walsh Canada Accessibility. We are The Walsh Group. Walsh Construction. Archer Western. Walsh Canada. What We Do. Accessing a variety of financing products through a broad network of lenders and underwriters in the United States and Canada to achieve the best cost of funding and value for the money.
Learn More. Leveraging our extensive experience, best practices, systems and technologies, to optimize safety, quality, cost and schedule in preconstruction phasing and planning. Integrated, turnkey outfitting and transition support, from equipment planning, purchasing, installation and training to relocation, close-out and post-occupancy evaluation, and more.
Expert facilities and roadway management capabilities to minimize energy consumption, emissions and operating costs and optimize the user experience. Where We Work. Our Rankings. Our Story.