Attach a mini pom pom to
do it yourself wood ornaments mod
hat. The materials needed are a spring felt bundle, a citrus coaster template and embroidery thread. Loop a length of wide ribbon around the wreath to hang. To ensure the slices dry flat, turn them over at the midway mark. You can use letters, numbers and white space. There's something about flannel that has the word "Christmas" written all over it—so what better fabric to incorporate into your ornaments? Yoursself - Continue Reading Below.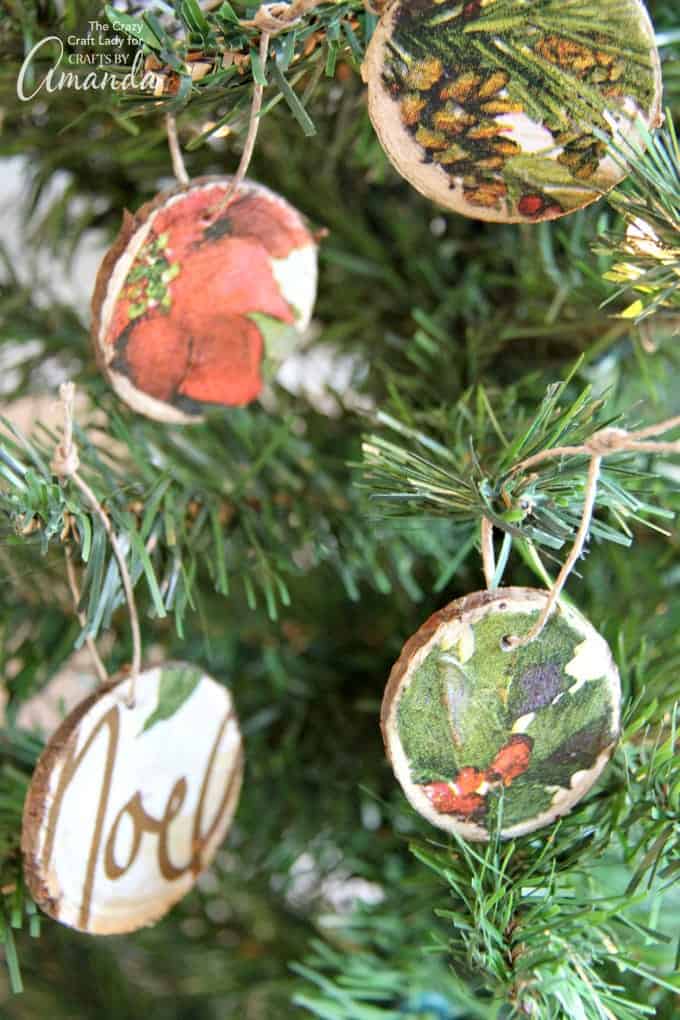 To make : Mod Podge a photograph of your house to an oval wood crafting blank. Once dry, attach a length of felt or twine to the edge with hot glue. Use an awl or small drill bit to create a hole in the top; thread a ribbon through the hole to hang.
Kids will love helping you make this sweet holiday noise maker. Have them thread the bells on the ribbon while you tie the bow. Hang on the front door, above the mantel, or at the end of a bed. To make: Thread large jingle bells onto three lengths of ribbon; knot one end of the ribbon. Tie the unknotted end around a small wreath form or a length of wire shaped into a circle.
Wire together a small bunch of seasonal greenery; attach to the wreath or circle form. Tie an oversized bow and hot glue to the wire just above the greenery. Any tree, big or small, is easily spruced up with the addition of a citrus garland. It's easy to make: Just thread dried citrus on a thin piece of wire, twine, or nylon thread.
Ambitious crafters, take note: This is two DIYs Do It Yourself Wood Dowels With in one! Wooden bead stars work look just as beautiful scattered on your table runner as they do hanging from your tree. And an "acorn tree" is a decidedly sophisticated centerpiece—perfect for the winter months.
Make the Wooden Bead Stars : Draw a five-point star on paper. Make a loop in one end of a piece of silver craft wire. Thread beads on wire, bending wire per drawing as you go.
Feed loose end of wire through loop, crimp, and cut. Make the Acorn Tree: Paint nuts with white craft paint, leaving caps natural. Attach a loop of twine with hot glue. Hang from a spray-painted branch set inside a spool of twine. A rustic tobacco basket and bright berries are the loveliest complement to one another. But our eyes are drawn to that oversize checked bow—how cheerful!
Use floral wire to fasten greenery in a bunch, then add pine cone accents. Both vintage and brand-new Christmas cards work well for this fun and incredibly easy DIY! A galvanized bucket can be used to collect even more holiday mail, as well as packages from friends near and far. Colorful card-stock poinsettias, cut by hand find the template here and secured with a button, are beyond beautiful. They're almost like a 3D charm atop solid and gingham wrapping paper.
Finish with a fringed ribbon! Your guests are sure to comment on the beautiful aroma that wafts from this DIY garland. Made with fresh cedar and grapevine twigs, it's as refreshing to be around as it is beautiful.
Make the Garland: Bundle inch lengths of fresh cedar and grapevine twigs and use green metal wire to hold them together. Repeat until you have enough to go around the doorframe. Affix bundles together in an overlapping pattern with green wire. Hang over the doorway using nails or hooks. Add berries and pine cones. Fur-embellished ice skates filled with evergreen are one of the most original, ultra-creative wreath ideas we've seen in a long time.
Add a fluffy pom-pom and a few silver ornaments, and you're in business. Own a few vintage ceramic trees?
Then you'll love incorporating them into a bulb-themed bash this season. This centerpiece ties the whole party together! Make the Centerpiece: Cut off the bottom of a small round Styrofoam ball and attach vintage Christmas lights to the top and sides with hot glue.
A homespun garland could be all it takes to make the difference between an "ordinary" and "extraordinary" Christmas at home. You just might have everything you need to make this one right in your pantry! You'll need navel and blood oranges, parchment paper, two cookie sheets, jute or natural twine, a skewer or nail, and decorative hooks. Line cookie sheets with parchment paper. Pat orange slices dry with paper towels, and place them on cookie sheets in a single layer.
Bake for approximately 3 hours or until dry. To ensure the slices dry flat, turn them over at the midway mark. Remove from oven. Thread twine through each hole, evenly spacing the oranges on the garland. Tie off each end with a loop, and hang from hooks.
Your pup deserves a Christmas craft just for him, and this one's a cinch: Simply add dog bone "bows" to classic wreaths using a hot glue gun. These straws are eye-catching and delightful, and they couldn't be easier to DIY. Simply attach small die-cut holly leaves and berries to a red-and-white paper straw with a dab of hot glue. Magnolia leaves and greenery are one of our favorite organic-looking pairings. Here, they share center stage with dried oranges and pine cones, which add texture, color, and warmth to the whole display.
A burlap ribbon is just the cherry on top of this DIY masterpiece! The "berries" scattered throughout it are actually red jingle bells. Make the Runner: Cut holly leaves from dark and light green card stock.
Use a bone folder or wooden skewer to indent veins in leaves, then trace indents with a green colored pencil. Run down the center of the table and lay red jingle bells throughout. You don't need to be a crafting pro to make something truly breathtaking. Even beginners can have fun cross-stitching this ornament with our easy-to-follow pattern. Get the pattern. To craft this fun wreath, you'll want to start by spray painting various sizes of flat wood rounds , wooden balls , and a biodegradable floral craft ring with white spray paint.
Paint peppermint stripes on rounds and balls with red craft paint. Once dry, spray with Super 77 spray adhesive and sprinkle with diamond dust glitter. Wrap a long length of striped wired ribbon around the ring for hanging , and then attach glittered rounds and balls with hot glue.
Intersperse a few small solid-colored balls if desired. Tie a bow with the same striped ribbon and attach with hot-glue. All it takes is a simple red pillow to create this exciting holiday piece. A sprig of greenery adds an extra ounce of fun but an ornament or pair of jingle bells works too!
Use a small hammer and a two-penny nail to punch a tiny hole in the center of the thimble's top. Let it dry and repeat 2 or 3 times. Then spray the glaze over the tiles 2 times to make them waterproof. These custom coasters are also easy to make. You need ceramic tiles, mod podge, acrylic sealer, a sponge brush, paper and cork backing or felt. Coat the top of each tile with a thin layer of mod podge. Then place the paper on top. Add another coat of mod podge and repeat 2 more times.
Then spray 2 or 3 coats of acrylic sealer on top. Cut a piece of cork board or felt and glue it to the bottom of the coaster. A great idea would be to use scrabble tiles to make custom coasters. First take 16 letters and make 4 words that you want to use on the coaster. Then glue the letters together. Cut the cork and attach it to the letters with the a glue gun. Spray a thin layer of sealer and enjoy.
For these coasters, the supplies needed are tiles, mod podge, a brush, card stock, an exacto knife, felt pads and clear spray paint. First, cut the card stock to the desired size. Then apply mod podge to the tile and place the card stock on it. Let it dry and apply a coat of mod podge on top of the card stock. Apply two more coats and then add a layer of clear spray paint. Let it dry and repeat. At the end, place a felt pad in each corner. These chalkboard coasters are also very nice and easy to make.
You need ceramic tiles, chalkboard spray paint, black felt, scissors, glue and a hot glue gun. Spray paint the tiles with 3 light coats.
Cut out felt squares the same size as the tiles. Attach them to the tiles with a hot glue gun. Then you personalize the coasters by drawing or writing on them.
A similar project would be this one: dry erase coasters. Here are the steps you need to follow in order to make them. First, tape two opposite sides of the tile leaving a small line exposed.
Then paint both the side and the small top line with two coats. Remove the tape from the painted sides and then tape the remaining two sides. Repeat the painting process and let it dry. Attach the felt pads on the bottom corners of each tile.
Cut off the ragged edges and cut each page in half lengthwise. Fold each strip in half lengthwise and fold that piece in thirds.
Fold the strip in half at the center and do the same thing with each sheet. Then start weaving. Some strips will wrap around the outside of the coaster when you start them.
Add one strip at a time and make sure you push them tightly together. Then cut off the excess and seal the coasters. Printout the pattern and pin it to a piece of felt. Cut the diagonal slot in each pattern piece with an X-acto knife. Then cut apart the pieces.
Then out the pieces together and you should get a coaster that looks like the ones in the picture. For a more natural and organic approach, try this project. The materials needed are an old tree limb, a saw, sandpaper, natural stain, sealer, felt or cork, glue and ribbon. Slice up 5 or 6 pieces of a tree limb and sand one side.
Stain it and then add a coat of sealer or waterproof finish. Cut out felt or cork and attach it to the bottom of the coaster. Wrap your set of coaters with a ribbon and you have a great gift. First choose a decorative stitch. Start stitching. You can use different colors of Do It Yourself Wood Stain 3d Model thread and different patterns or models.
These coasters are a little different. They are made from leather, cork and old coasters. Instead of leather you can also use fabric.
Trace a circle on the leather and cut the shape out. Then place it on cork and leave some room around the edges. Apply glue to the back of the leather circle and to the cork circle and put them together. Press and roll out any bubbles.
Cut off the excess cork. You can use fabric or leather. Use a nice color of thread that will create a nice pattern. These leather coaters are fun to make because you get to paint them. First, prepare the dye bottles by adding water. Cut a piece of leather and practice your technique by spraying an edge. Then move it, spray another color and so on. Then apply a coat of sealant to the leather and cut out coasters. These colorful citrus coasters are a little more complex.
The materials needed are a spring felt bundle, a citrus coaster template and embroidery thread. Cut the felt according to the template. Place the white circle inside one of the colored circle and then arrange segments on top of the pitch circle. Pin all the layers together. Then use thread that matches the colored felt to sew them together.
Clean the lids and put a bead of hot glue in the center. Wind the rope around the lid and glue as you go in a circular motion. Glue down the end of the rope and cut off the excess. You can also use other types of rope. Cut the pictures and round the edges. Coat the front of the tile with a thin coat of mod podge and press the picture to the tile.
Let it fry and add another coat. Cut small squares of felt and glue them to the corners of the tile, on the other side. Decorate the set with a ribbon. Clean the tiles and cut the paper into squares. Brush the tile with glue and adhere the paper. Apply another coat of glue to the top of the paper. Then cut the felt and glue it to the bottom of the tile. Stack them and add the ribbon. All you have to do is apply four savers to the underside of each tile and then coat each tile with varnish.
If you want, you could make some lovely knitted coasters. You can make them any color you want or any shape you want and you can even use patterns or models. You could also make them as a gift for someone you love. For example, to make these all you need is some chalkboard paint, cork coasters and a paint brush.
Just apply chalkboard paint to one side of the coasters and make sure you add at least two coats. Let them dry and then enjoy personalizing them.